Almost as good as walking through the property, a 3D full color floor plan shows the home to a potential buyer in greater detail.
From demonstrating the flooring transitions to which way a door swings, a 3D full color floor plan will show off a property and help attract top quality buyers.
A fully landscaped birds-eye view of any angle, capturing the full footprint of the development
Using Google Earth or Aerial Drone Mapping we will create a close match of the natural environment surrounding the development.
The virtual tours we produce aim to sell properties before even a single brick has been laid. 
Perfect for impressing your potential purchasers, selling off plan or presentations to investors.
Sell your building before you lay a brick.
Using artifical intelligence and 3D visualisation we can accelerate your sales and streamline project workflow by providing a real glimpse into the world you are building. 
We can take you to places that don't exist yet.
Virtual Staging is about presenting a property in the most appealing way to potential buyers, using realistic digital images of furniture placed into photos of your property.
About 5% – 10% of online real estate listings use virtual staging. 
90% cheaper than traditional home staging

24 – 48hr turnaround time
From This to This
Add Pool Only
Add Pool Surrounds (includes pool furniture, safety fencing, paving, concrete or decking connected to the pool itself)
What We Did
Add or Complete Kitchen or Bathroom Fit Out (includes essential fixtures and structures e.g. Cabinets, Bench tops, splashback, etc. as well as standard accessories)
Add/Replace Interior Fixtures (e.g. door, windows, shutters, lights or fireplace)
How We Did It
Replace exterior walls (change the texture of existing exterior walls)
Add Full Landscaping (includes lawn/grass, plants, garden beds, hedges, trees, driveways)
Remove existing Furniture or Building supplies (declutter an outdoor area)
How We Did It
Replace Flooring
Replace Walls
Replace Ceilings
Add/Replace Fixtures
Add or Complete Office Fit Out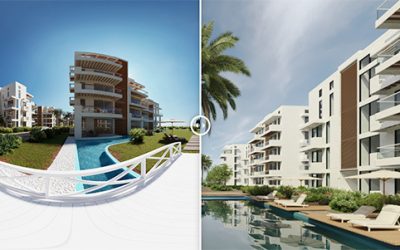 Comparing the benefits of a 360º CGI architectural render versus a static CGI. Learn which option is right for your project and discover the advantages of immersive 360º visuals in architectural design.
Natural disasters are unpredictable and can cause severe damage to infrastructure and loss of life. They can lead to widespread power outages and hinder rescue operations. Mitigating the impact of these events requires reliable and efficient solutions. Aerial drones equipped with advanced intelligence can play a crucial role in minimizing damage caused by natural disasters.
Drone surveys have revolutionized the roofing industry in many ways, offering significant safety benefits by eliminating manual inspections and potential fall hazards. These surveys are highly efficient, reducing assessment time from days to hours.