Site Managers, Architects, Property Developers
Compare two 3D tours side-by-side and track changes of a construction project or make a chronological record of a site easily.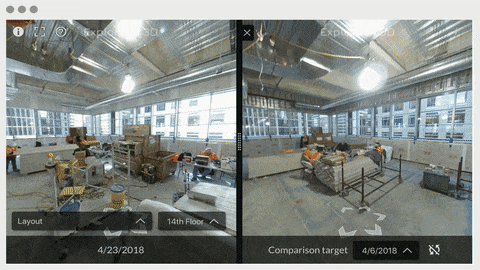 Compare 3D tours taken on different days
We produce 3D tours which help architects, construction professionals, and civil engineers create actionable insights over the life of the project.
Ask us to capture your construction site.
Capture outdoors in a snap
Our tours work well both for indoor and outdoor scenes, and you can get a KML file if GPS metadata is available.
Super Fast 3D Capture
Capture 50,000 sqft (or 4,600 sqm) in less than two hours and create an as-built 3D photographic record.
Compare as-built scenes with a live BIM
Compare a Revit, Navisworks or SketchUp model with hundreds of location-aligned panoramic photos from any camera angle.
4D track changes
Capture 3D tours whenever the project reaches milestones and secure the rock-solid proof of the progress.
Built-In secure collaboration
You can restrict user access when sharing 3D tours with sign-in users and enable real-time discussion throughout the tour.
Measure Dimensions
Using only the Web Player, project stakeholders can measure 3D dimensions by picking points on the 360° photos with 1% or higher accuracy for every 65 ft (or 20 m) range.
How the comparison GUI works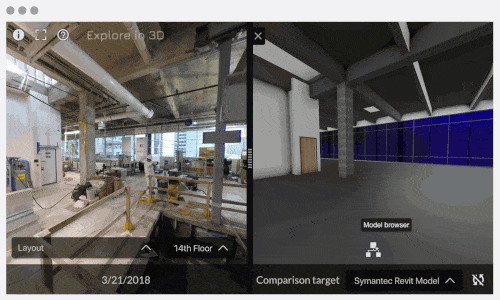 Split View 3D BIM Comparison
There are two split view panels in the comparison window, and users' view changes including virtual walk-through are synced together in both view panels.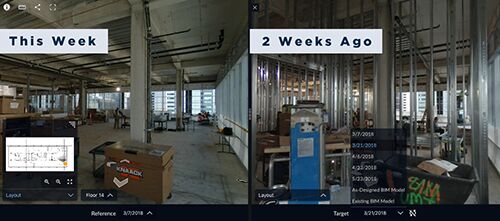 4D track changes
Compare two 3D tours side-by-side and track changes of a construction project or make a chronological record of a site easily.
Fast and More Complete than 3D laser scanning
We can capture 2D photography and 3D data from job sites, automatically stitching them into a complete, immersive 3D model of a real-world job site. Take this 3D model and annotate, share, and export the point cloud to Autodesk ReCap® or Revit®.
NO REGISTRATION MARKERS REQUIRED
Our 3D scanning process is push-button simple. No registration markers and no manual alignment required. Everything is automatic!
ACCURATE WITHIN 1%*
Scanning is not only quick but also accurate enough to generate point clouds and polygons for as-builts and construction documentation.
Jump start your as-builts with a 3D Model
QUICKLY SCAN CURRENT CONDITIONS
3D scanning as-builts has never been easier. No need to set up registration markers before you scan, and your point clouds are automatically registered in the cloud for one less step.
BE EFFICIENT, MEASURE WHILE OFFSITE
No need for return site visits when you have a complete 3D model on your computer. Your as-built engineers can reference the complete space throughout the design process, collecting virtual measurements whenever they need to. As built documentation has never been easier.
EXPORT POINT CLOUDS INTO AUTODESK® RECAP
You can easily export a registered, colored point cloud that is ready for Autodesk® ReCap. Use a point cloud as a real-world template to kickstart your as-built design process.
BIM: Faster building information modeling
REDUCE VIRTUAL DESIGN AND CONSTRUCTION COSTS
Make the scan the first step in your BIM process. Use it to to visually analyze a property, export the registered point cloud into your BIM modeling software, and start modeling from existing conditions.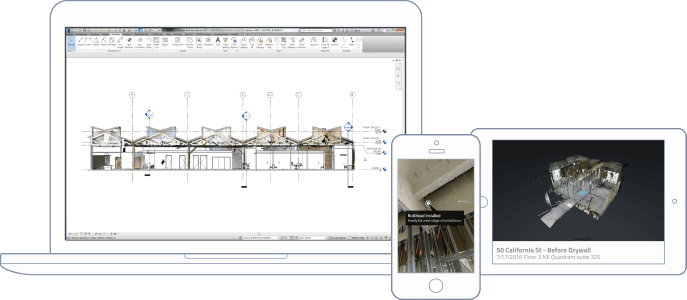 WIN MORE BIDS WITH BETTER DOCUMENTATION
Building owners want the construction of their buildings to be well documented. Provide them with superior construction documentation throughout the process. When you're done, give them the files they need for long-term facilities management.
Keep your documentation costs low while still offering accurate, high-quality information.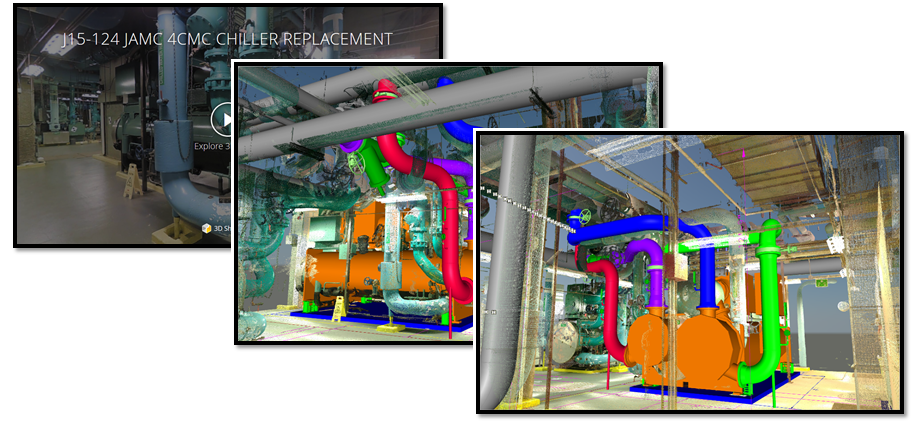 GET THE POINT CLOUD AND MAKE MEASUREMENTS
Get the point cloud from Matterport, import into Recap or Revit, and then take as many measurements as you want. Measurements are accurate to within 1% of reality.
With a point cloud, you can eliminate return visits because you always have a digital copy from which you can measure. You can also take measurements that are difficult to get in real life like pipes, trusses, and beams in the ceiling.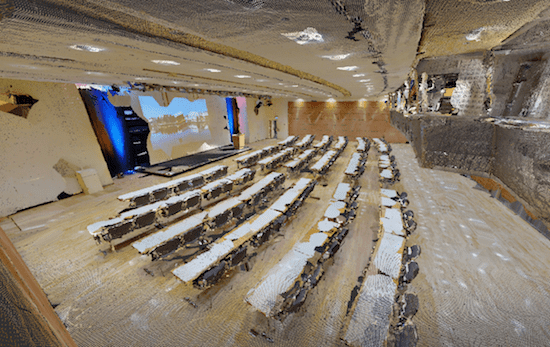 Documentation Optimisation
3D CONSTRUCTION DOCUMENTATION WITHOUT THE HEADACHE
With only a few simple scans, we can give you quick and effective milestone documentation. With both 2D photography and 3D data, it's the best way to track key milestones and discover issues early.
Replace 1000s of photos
A single scanned space can replace thousands of traditional 2D photos. With the immersive 360º walkthrough, documentation is both engaging and enjoyable. You can even zoom in and read detailed labels.
For when you absolutely need 2D photos, they're easy to download from the scan. You can also get reflected ceiling plan images and high resolution floorplan images for even richer documentation.
Measure, Annotate and Communicate Faster
Get stakeholders on the same page and give them the detail they need. Tag complicated areas with more information, such as MEP details beneath drywall. Highlight what's most important with a Guided Tour.
Get the point cloud that accurately details current conditions and then export to Revit to compare with the original design.
Leverage for the long term
Finally, turn over your documentation to the building owner for long-term facilities management. The owner will be pleased to have this easy-to-use treasure trove of information for future maintenance and renovations.
Native BIM files are supported
Share with Industry compatible solutions
You can upload native Revit, Navisworks, SketchUp, or IFC standard format files into the Asset Library and the online 3D BIM model viewer will be generated.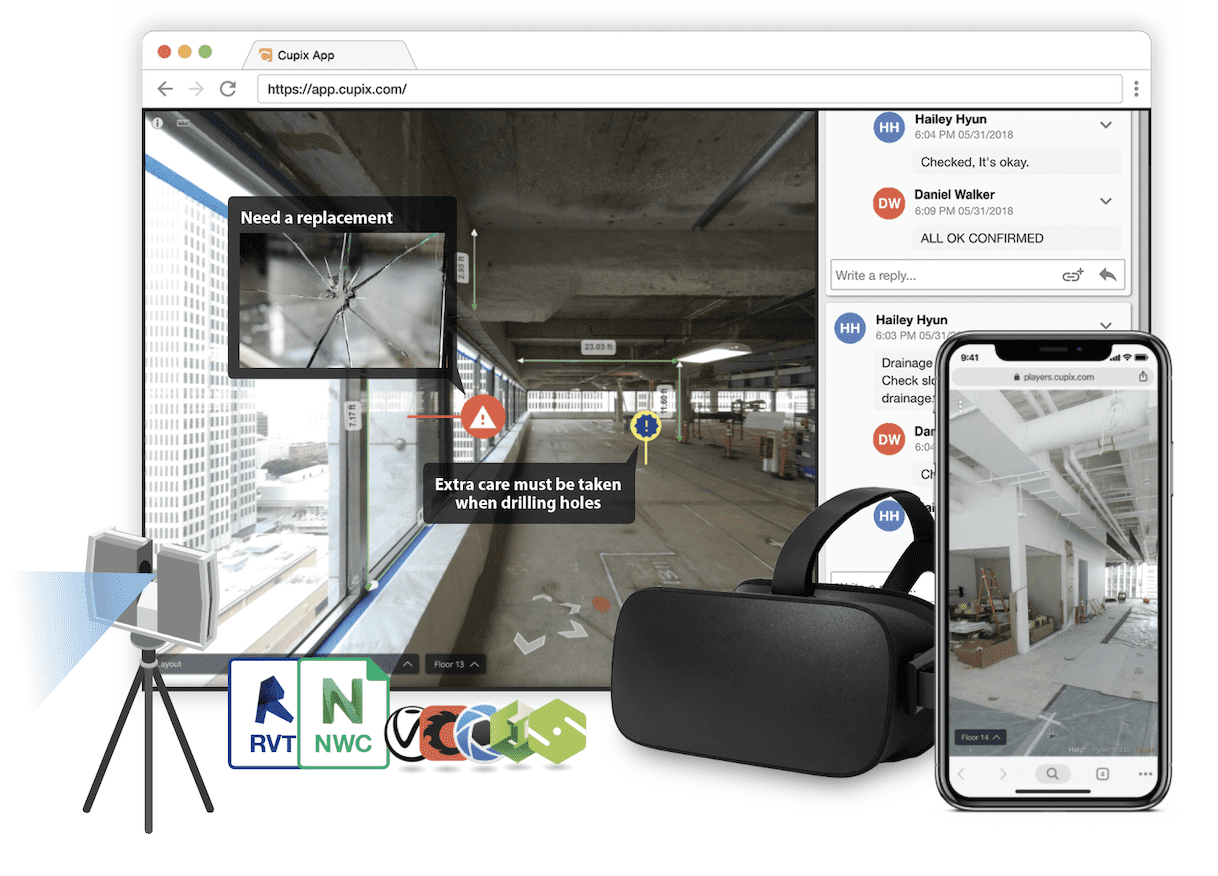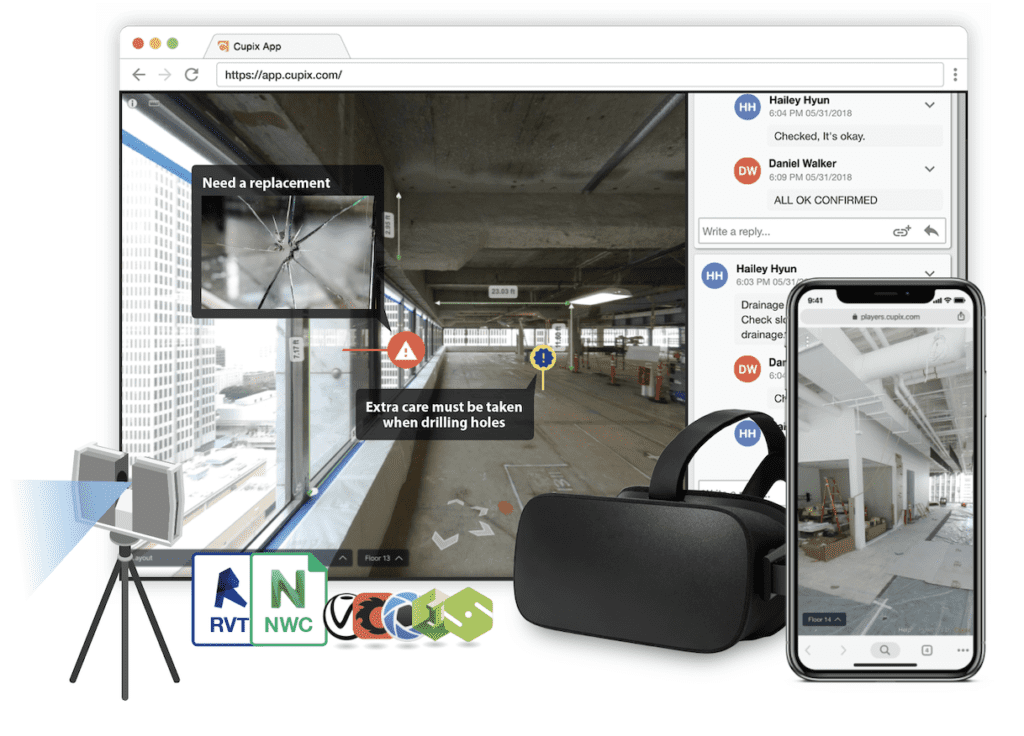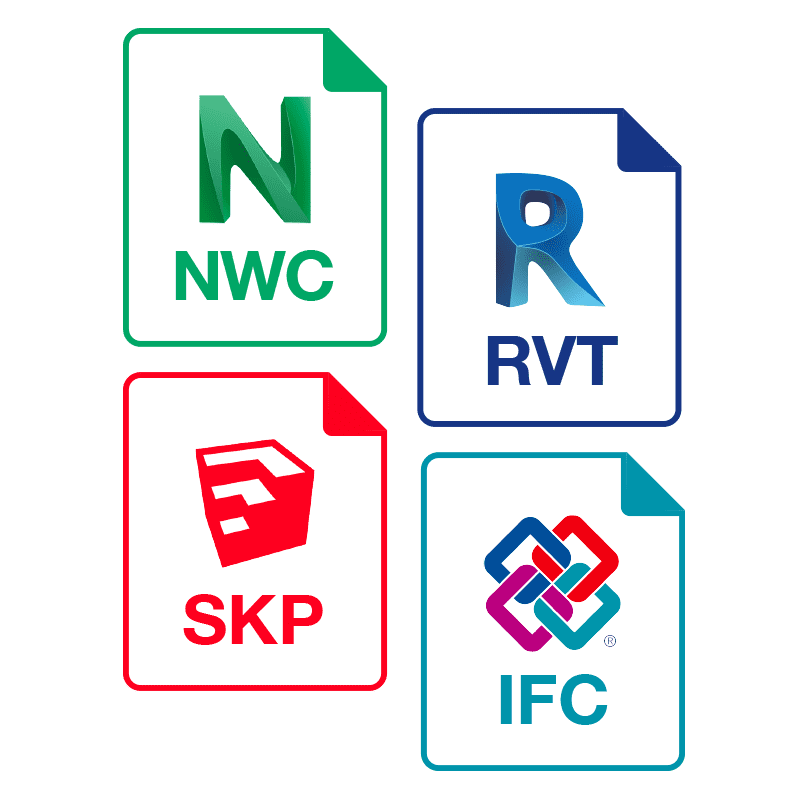 Lets start a new project!
Fast, responsive, expertise you can rely on.
By submitting this form, you agree to receive our news from the Imaginarium and other occasional e-mail communications from us. You'll be able to opt out at any time.