Professional PropTech Media Keeps Estate Agents Relevant in a Competitive Industry
Consistently, innovation gets less expensive, less demanding to utilize and better quality. For estate agency, buyers and sellers expect their agents to be have this technology powering their property listing.
Agents who deploy the best media tools to provide sellers with access to fantastic photography, video and different types of media will be first among equals as the technology becomes more rapidly adopted.
Target Buyers Where They Are
Ongoing surveys propose that as much as 95 percent of home purchasers begin their inquiry on the web. This is known as the "Zero Moment of Truth," where purchasers consider and separate their decisions before effectively shopping and choosing what they need. Whether we're shopping for corn flakes, concert tickets or a honeymoon in Paris, the Internet has changed how we decide what to buy. Google call this online decision-making moment the Zero Moment of Truth, or simply, ZMOT. The ZMOT refers to the moment in the buying process when the consumer researches a product prior to purchase
Real estate agents definitely realise that the dynamic of their job is changing, from one that tells purchasers about the presence of homes to a place of helping purchasers to settle on properties that they have just seen online. At the very least to sort the time-wasters from the considered buyer. by getting upstream earlier on in the decision-making process by using engaging technology, the agent will impress and retain the listing and attract a wider clientele.
As the innovation for eye-catching photography and video enhances and turns out to be progressively available, buyers are increasingly keen on taking a look at properties that give them the most precise delineation of the home, well before they set foot inside it.
We completed 3DVR tours of 5 properties for leading London-based estate agent Winkworth. Over a 2 week period, 431 people viewed the tours and 212 returned for a second viewing of the VR tour (49% returned more than once). If you work out the man hours it takes to physically arrange and complete the equivalent then you can quickly work out the efficiency and reach of a 3D virtual property tour.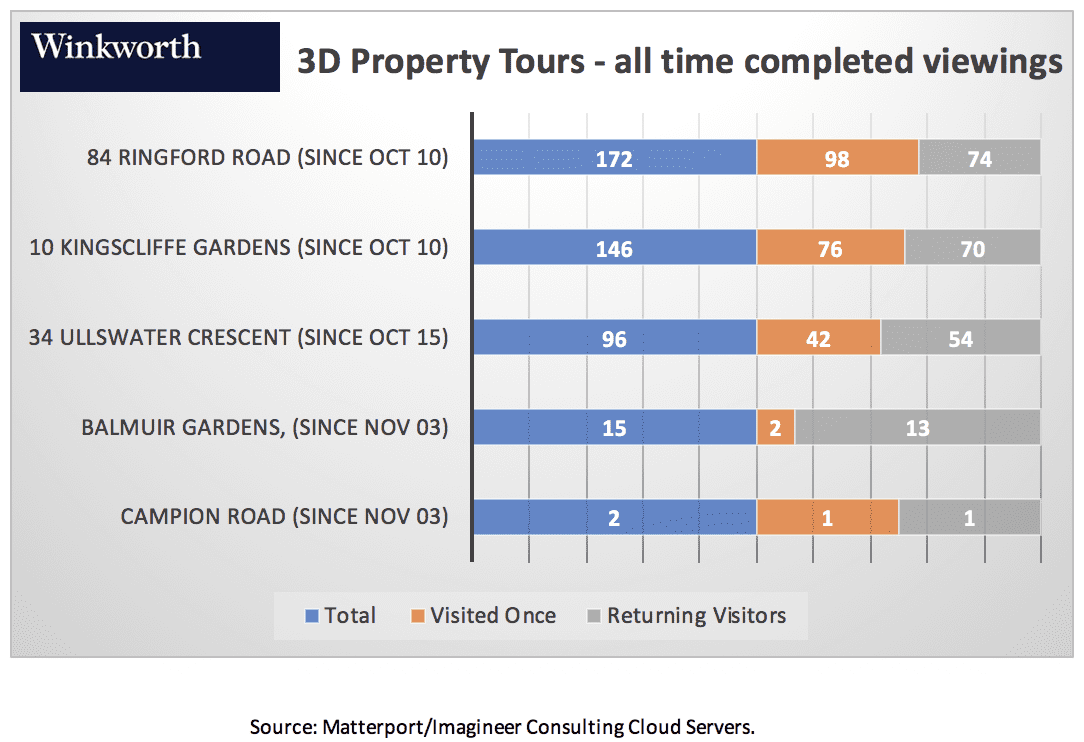 Just as buyers are becoming increasingly savvy about what a home's online presence looks like in comparison to others, home sellers can easily inform themselves about which agents can offer them the best chance at a good sale. Aerial views of a property used to be limited to expensive homes and homeowners who could afford the cost of arranging for a helicopter.
These days, hiring a company to take a drone inside or above a home for an interactive, 360-degree view of the property might only cost a few hundred dollars. When they contract with a real estate agent, sellers are looking to gain the agent's access to the kinds of services that will make their properties look better online for buyers to browse. The more agents who provide access to this technology in their service contracts, the more obvious it becomes to sellers which agents they should choose.
Create Mobile-Friendly Media
The widespread accessibility of mobile applications targeting the buying and selling of real estate demonstrates how consumers are changing the ways they look for homes to buy.
The vast majority of people use their mobile devices to search for information, and more than half of all searches are now done on mobile devices. Younger buyers are more accustomed to looking for information on their smartphones, and would be more likely to skip media that is not easy to view on the small screen. This means that agents need to ensure that the content they provide for buyers to consider is easy to find and view on mobile devices.
Tap Into the "Sight Unseen" Market
Buyers know that there is always a degree of risk inherent to buying a home "sight unseen," but the numbers of people buying properties this way is on the rise. About one in five people buy a home without taking a physical inspection of the property, and this is at least partially due to the accessibility of media concerning the home online.
If buyers can check out a home's listing and see aerial photography, professionally-staged and shot views of the home's interior, as well as a virtual tour, they may well conclude that they have no need to actually see the home before making an offer. Agents who can provide this level of quality in their online home listings can ultimately claim a higher share of this niche of the real estate market.
Staying relevant in an industry that relies on online accessibility involves a heavy commitment to technology and high-quality data for consumers. When real estate agents emphasize their effective use of professional media, they garner the services of more sellers and attract a larger share of buyers.
Imagineer's on-demand 3DVR suite of solutions remain competitively priced and readily deployable to estate agents across the UK. Find out more here.